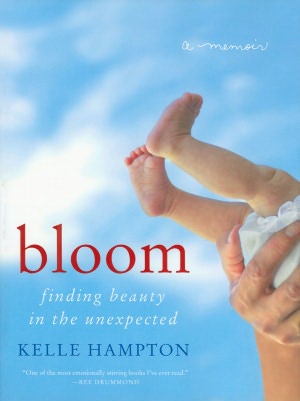 Bloom: finding beauty in the unexpected
by Kelle Hampton
I am still unsure on how I feel about this book. We read it for book club last month and are actually skyping with the author on Wednesday. I'm sure I'll be more resolved after chatting "live" and hashing it over with friends. The book itself is beautiful, full of grogeous photographs of their children and friends, and Hampton's writing is superb. are actually skyping with the author on Wednesday. I may have more of a resolution on this book after discussing with friends, but I just have such mixed feelings. The book itself is just lovely with such beautiful pictures of their family and friends. Hampton is a beautiful writer, painting such a picture with her words that you feel like you are there. Where I was kind of at a loss was in my relation to her. Don't get me wrong, I completely sympathized with the shock of her situation.
Is Everyone Hanging Out Without Me?
by Mindy Kaling
I randomly picked this one up at the library upon suggestion from a friend. I have never watched The Office so I really had no expectations. Hilarious! The book is comprised of short essays on various topics that Kaling finds important to share with you. Her self-deprecating humor and homage to late nineties pop culture (we're about the same age) made me immediately feel like I was having coffee with a good friend. Though her take on everything is pretty sarcastic, I loved that her humor is clean and found myself nodding my head at so many of her thoughts on dating, marriage, society today, etc. I did lose some interest towards the middle since the essays are so short and there is no real plot driving it, but overall it was refreshing. I would definitely recommend as a beach read--just be prepared to laugh out loud.